Dear family and friends;
Thank you for your support and prayers for us and for the Renault Sunday school. We had over 2,000 children attend this past Sunday (56 boxes of Manna Packs with 36 packs in a box) and we feel that the Sunday school is bursting.

We would  appreciate your continued prayers for the Renault Sunday school as even the addition is overflowing and we are having to turn children away on some Sundays.
We have a visiting team from Alabama here and it was fun to do a wedding for 20 Haitian couples today.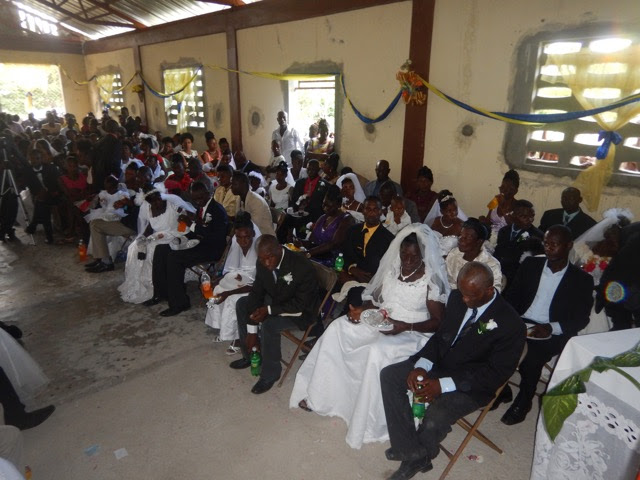 Deb does a great job of coordinating these weddings.
The local kids that live near us at Camp Mahanaim love it whenever we do weddings, as they usually get a leftover sandwich every time we return from doing a wedding. We have trained them to line up nicely.
This dear lady and her husband were the oldest couple married today, and they had many, many grandchildren. She was so thankful to the Lord for the opportunity to finally be married.
We are making progress on projects around the camp. We are just about ready to put the roof on the new sawmill area.
Our faithful young workers; Roro and Nadair are doing a great job of building a gazebo on the Island near the watersides.
Thanks again for your prayers and support. We have some openings for teams in July and early August, if you would like to bring a team and help us do camps for the Renault Sunday school kids this summer.
bye for now,
Love Rod, Deb and Katie